Jul 13 2022
How to use HTML email signatures in your automated email system and convert more leads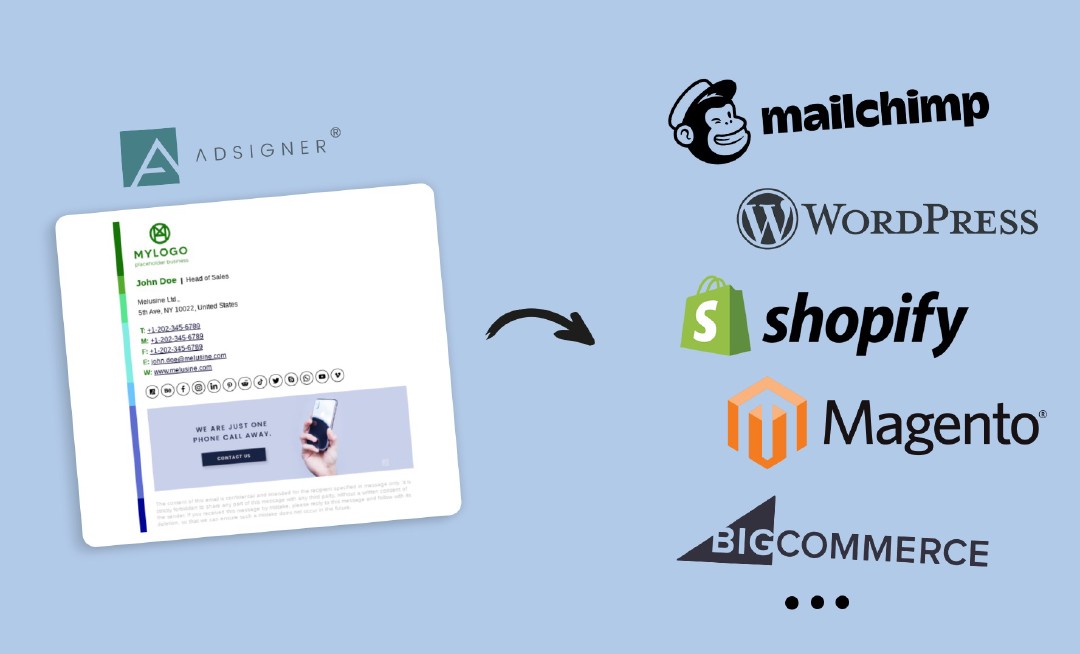 With the increase in remote sales, face-to-face contact and handshakes with clients have become almost impossible. Emails have stepped in as the primary medium used to communicate with potential customers with the added advantage of being quicker, efficient and more trackable. In fact, over 90% of internet users currently hold an email account for private or business purposes. Despite this, using emails as a tool is not enough. There are different ways to substantially improve the effectiveness of your email communications. For instance, your HTML email signatures can help you catch the eyes of your prospects with an attractive email signature design and marketing campaign banner which is embodied in your email signature.
As opposed to other email signature solutions, AdSigner email signatures can be inserted into all sorts of automated email systems which support HTML email signatures. This is a powerful and essential feature for every organization who wants to upscale and grow their business.
With Adsigner email signature solution, you can run automated banner campaigns that update automatically in real-time and are scheduled according to custom timescales across all of your email communications. As a result, the emails you send are always up-to-date with your newest marketing campaign banners; to up-sell, cross-sell, promote events, boost your brand awareness and grow your business! Moreover, AdSigner offers a great analytics tool to that allows you to track, analyse and optimise the performance of your banner campaigns and email signatures. This helps you to ensure that the recipients of your emails are always receiving the most up-to-date information within your AdSigner email signature banner campaigns.
Here is a list of automated email systems which can be upgraded with AdSigner's live banner campaigns, which update according to your custom scheduling in real-time in all past and present email communications. This means that whenever the recipient of your email will open your message, they will have the most relevant information in the email signature campaign banner with the newest offers, events, special deals which helps you increase your revenue, boost your brand and make the most of every email communication.
Hosted CMS sites using Wordpress, Magento or similar i
Cloud managed solutions like Shopify or BigCommerce with configurable email templates ii
Email marketing tools like Mailchimp iii
Automatically send; conformation bookings, order conformation emails, newsletters, 'Welcome' emails, birthday and anniversary emails, abandoned cart emails, or a series of emails to contacts, or automatically resend emails to non-openers, can be effectively transformed with AdSigner's HTML email signature solution, to ensure new advertising potential which will help you boost your brand and corporate image.
Automated emails help you remain engaged with your contacts and save time in the long run. They can be set up to be automatically sent to contacts based on specific triggers. Once you take some time to customize them, you won't have to think about them again until you're ready to change the content.
You can use a combination of automated emails to achieve your marketing goals! Here's what you need to know to get started:
Insert an AdSigner email signature with automated live banner campaign banners into your automated emails to make the most of your email communications to grow your sales and brand recognition;
Automated email series
Abandoned cart reminder emails
Automatically resend an email to non-openers
Conformation emails; such as booking confirmations or order conformations
Newsletters
'Welcome' emails
Birthday and Anniversary emails
Best practices for creating and sending an automated email series together with an AdSigner HTML email signature which have automated campaign banners embodied within.
You can run date-sensitive content with AdSigner email signature campaign banners because they update in real-time according to your desired scheduling.
Provide answers to frequently asked questions
Share relevant information
Share valuable information
Give your contacts a reason to engage
Nurture your leads
Request feedback from newcomers
Sum up, to enriching your communication is more critical than ever. To achieve this, use AdSigner's email signature solution with a Professional Plan or Premium Plan that provides you with the ability to run automated, scheduled banner campaigns in your email signature to grow sales, boost brand awareness and grow your business. Enhance your email communication by using a professional HTML email signatures on all outgoing email messages. AdSigner HTML email signatures make an impact and set you apart from your competitors. Moreover, AdSigner's email signature solution provides the maximum effectiveness and great value for money which every organization in striving for. Get started and enhance your corporate communication with AdSigner email signatures and take your company to the next level.


AdSigner is available to you with a monthly subscription from EUR 0.82 per signature.
---
i PrestaShop, Magento, Drupal
ii BigCommerce, Magento Cloud, Squarespace, PinnacleCart, Shift4Shop, Wix
iii Sendinblue, Moosend, Convertkit, HubSpot, Mailerlite, Klaviyo, Aweber, ActiveCampaign.