May 17 2022
Case study on how AdSigner email signatures help business like hotels to generate more revenue and build brand awareness.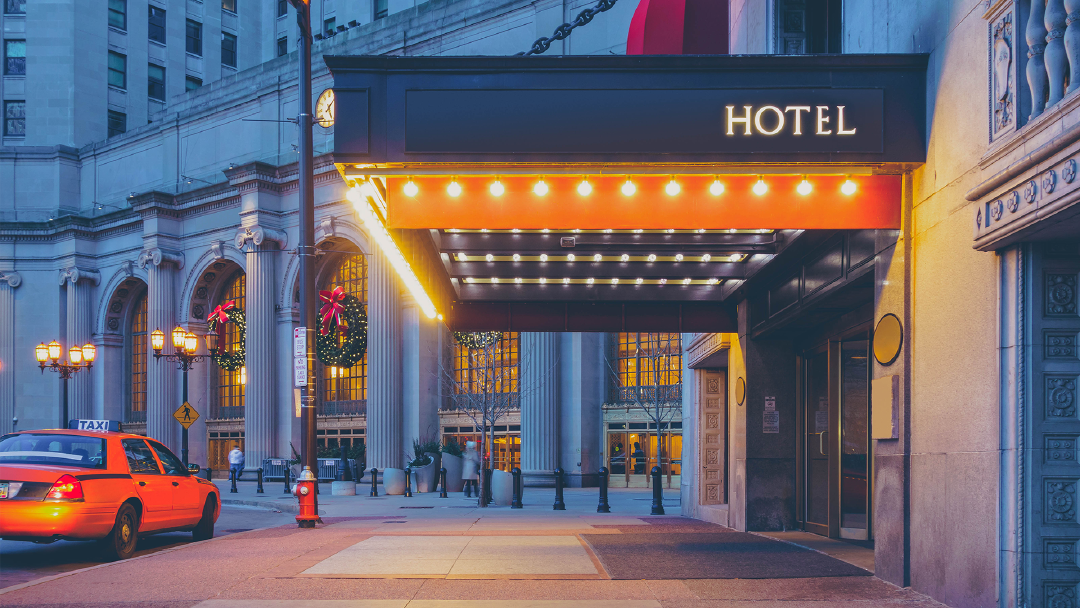 Communication via email is predominate nowadays, thus more and more organizations want to take advantage of their everyday communications to up-sell, cross-sell or communicate information which is relevant for the recipients of their email in a professional and presentable manner.
Hotels tend to have different departments targeting different subjects; B2B, B2G. B2C, etc. Moreover, hotel groups have hotels at different locations, with different names, sometimes with different logos or branding, different social media pages and other differing information. These kinds of circumstances require segmentation in terms of email signature template layouts and segmentation when it comes to managing different marketing campaign banners.
AdSigner offers segmentation in terms of email signature templates – so that within the Group of hotels, they can have multiple email signature templates featuring one logo or multiple, clickable logos for different hotels at specific locations and specific information for that particular hotel (address, website, social media icons, etc.)
How hotels utilize email signatures to boost sales?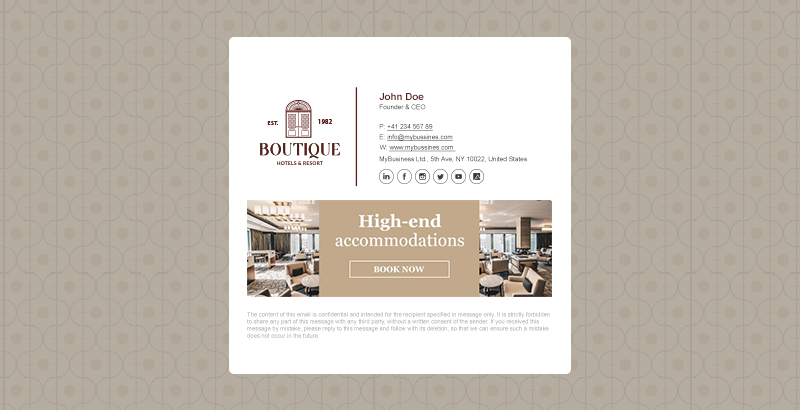 B2B and AdSigner email signatures
A business partner is communicating with 3 hotel staff members regarding a project. He notices that the email signatures of the hotel are standardised but different staff members have different campaign banners in their email signature. The Marketing manager is promoting a special deal for the winter holiday, the restaurant manager is promoting a package for the New Year's gala dinner and one night stay at the hotel in his email signature and the HR Manager has a banner in their email signature advertising a job vacancy at the hotel because they are looking for a new marketing professional. Since the recipient has a friend who is looking for marketing positions, he clicks on the banner and sends the link to his friend. AdSigner - offers a great way to communicate information that is relevant for a specific department, etc.
B2G and AdSigner email signatures
Members of the hotel are in contact with The Ministry of Foreign Affairs regarding the accommodation of foreign delegates staying at their hotel. Also, the annual summit will be hosted in the hotel's conference venue. The representative for The Ministry of Foreign Affairs, notices that the hotel's email signatures are nicely consistent with their brand, moreover she notices a marketing banner in the Event Manager's email signature – highlighting the fact that they have extended their service when it comes to planning events at their hotel with floral arrangements as well. Since this is a service they require, she makes an enquiry.
B2C and AdSigner email signatures
A returning customer books a family holiday at their favourite hotel. She receives an email and notices a marketing banner in an AdSigner email signature which advertises an exclusive special offer for everyone booking a summer holiday with their chain of hotels up to a certain time. This is a great moment that encourages the client to successfully book their summer holiday right away.
After a few months, the customer checks back on her confirmation email a few days before their visit to the hotel to make sure they have all the information and mandatory documents which need to be submitted when checking in at the hotel. She opens the email and notices the marketing banner has changed since the last time she opened the same email a few months ago. Today the banner in the email signature is promoting a special offer for the hotel's spa. Since she knows that her partner would appreciate a treatment at the spa, she clicks on the banner to book an available slot - Cross-sell with AdSigner.
AdSigner is available to you with a monthly subscription from EUR 0.82 per signature.