Jun 16 2022
Use case Manufacturing companies
Why manufacturing branding matters?
Branding is the first impression that your company will have on a prospect. A strong brand is able to express the importance of your drive, products, policies, mission or services to your customers based on good branding. In order to form a bond with the customer, a brand needs to be transparent and authentic.
Why manufacturing companies should use email signatures?
Professional looking email signatures are part of this journey. Nowadays, when we predominantly communicate via email, email signatures are essentially our digital business cards and they can contain sales and promotional potential. On average, organizations send out 25-40 emails every day per staff member.
Now, imagine the potential reach your daily communication has and how you can enhance this through using AdSigner email signatures.
How to build a strong manufacturing brand
1. Emphasize your unique capabilities
2. Build a strong visual presence
3. Increase outreach
4. Focus on a niche segment
5. Be credible and consistent
AdSigner email signatures can help manufacturing companies to improve their digital presence and build a strong manufacturing brand. Moreover, it saves time and money, which are commodities that we call strive for. Your email signatures present your brand, which is why they need to look sleek and professional. This is a must-have for every successful manufacturing company. We have prepared a few examples to show how manufacturing companies use email signatures to grow their brand.
Standardizing email signatures throughout all staff members
Manufacturing companies tend to have many employees, a number of which are often spread across different locations or premises. Therefore, having an effective email signature solution which enables complete organization and central management of email signatures and promotional banners in email signatures makes sense. Moreover, with AdSigner, manufacturing companies can easily standardize email signatures throughout the organization, creating email signature templates for specific departments or staff, which also enables them to have language differentiation.
Branding at events and exhibitions
Every year, manufacturing companies attend different exhibitions, events, summits, and conferences, where standing out from the competition and highlighting unique capabilities plays and important role. Having standardized, professional email signatures with the ability to contain banners to inform recipients about upcoming events, new catalogues or exhibitions in their email signature, combined with call-to-action (CTA) buttons ('book an appointment', 'contact us', 'visit us') helps them take full advantage of the massive reach that daily communication has. Moreover, AdSigner empowers communications experts and other digital experts by providing insight into the success of any campaigns via use of our in-depth analytics tool.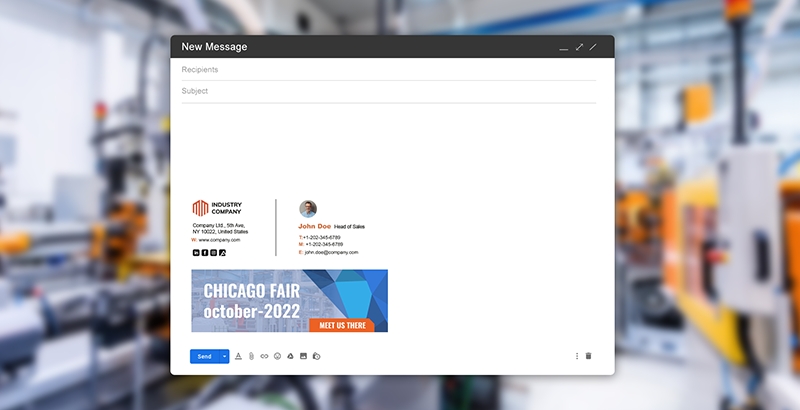 Informing recipients about ongoing activities
Manufacturing companies like to use email signatures to spread news about their ongoing activities. This can be done by including banners in their email signatures which contain information about the latest developments. Moreover, email signatures are a great channel to inform everyone about any accreditations and certificates your company has acquired. Additionally, it gives manufacturing companies the ability to inform recipients about new trends, projects or products that have been developed.
HR and talent management
Finding the right people is a tough task for any organization. Here are a few ideas about how some manufacturing companies are tackling these issues with the help of email signatures. If they are looking for a new team member in a specific department, they would activate a campaign banner in that specific department's email signature. They are looking for a 'Head Engineer' The CTA button says; 'Apply now, join our team'. Everyone notices the banner in their email signature and if they know someone who would be a suitable candidate for the position, they would refer them to HR or send a link to the candidate for them to apply.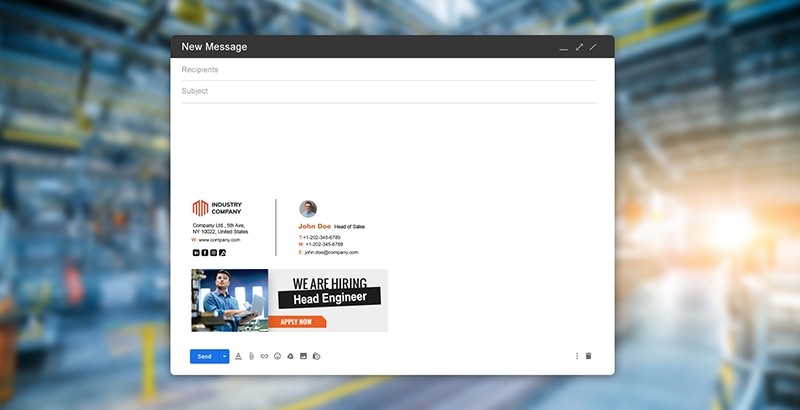 To sum up, manufacturing branding play and important part in every successful business. It shows your passion in producing quality products in your market. When we compare how many people visits your website and how many email signature are send from manufacturing company on average, we realized email signature are a very powerful tool how manufacturing companies can inform about their activities, dive traffic to their website and grow their business. Tell your story in build a strong visual presence, be credible, constant and consistent in your corpore communication in your email signature and grow your brand with AdSigner.
AdSigner is available to you with a monthly subscription from EUR 0.82 per signature.