Jun 28 2023
10 of the Most important Email Signature Design Trends in 2023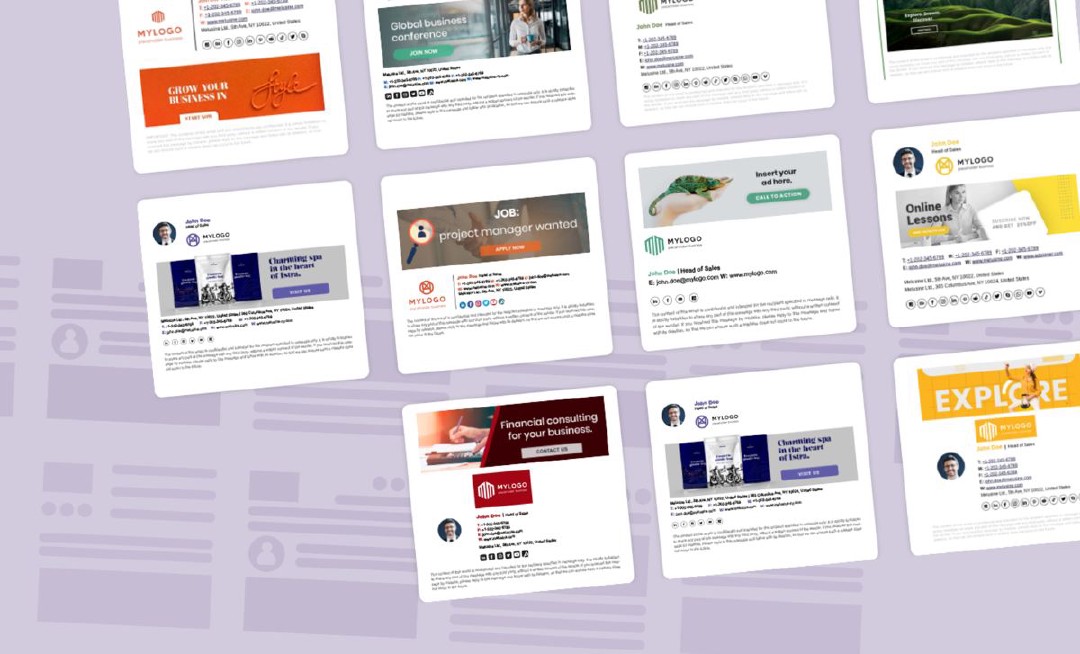 In this blog we will explore the ten most influential email signature design trends of 2023
Segmentation
Clean & Minimalist Design
Automated banner campaigns
Boosting engagement with interactive email signature elements
Mobile Responsive Email Signatures
Consistent with Brand Identity
Animated GIFS
Leveraging social media profiles
Optimised for Dark Mode
Personalisation & Customization
Why your email signature design should stay on trend
New trends offer businesses the opportunity to enhance their brand, improve communication and boost engagement with their customers and clients. AdSigner is a leading provider of email signature solutions that can help businesses take advantage of these trends. With features like customisable templates consistent with brand identity, segmented banner campaigns, social media icons, interactive elements and mobile-responsive designs, AdSigner enables businesses to effectively create professional and engaging email signatures that align with their brand and meet their communication needs. As the world of email communication continues to evolve, AdSigner is committed to staying ahead of the curve and providing innovative solutions that help businesses make the most of their email signatures and set them apart from competitors.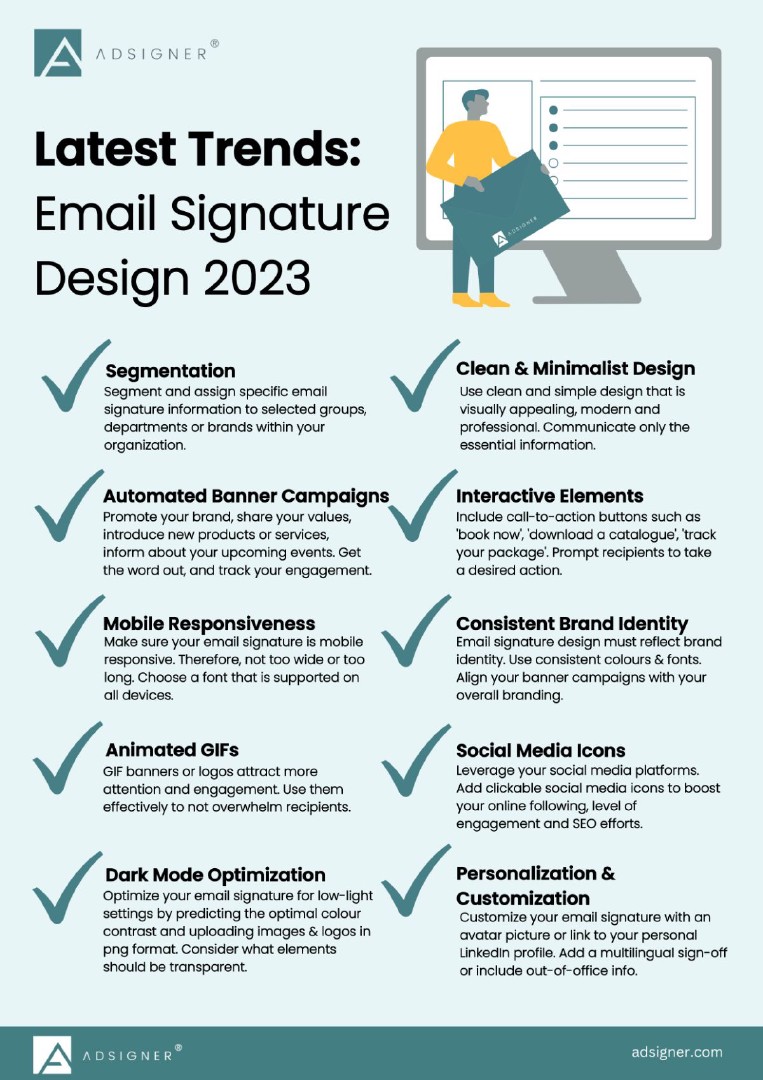 1. Segmentation
With AdSigner email signature solution you can easily segment and assign different email signature templates to selected groups, departments or brands within your organization. Moreover, you can set different marketing campaign banners targeting different email signatures within your organization so that the information in the email signature is relevant and up-to-date with the requirements and needs of the specific recipients of that email communication.
The segmentation feature in AdSigner email signature solution significantly simplifies central management of email signatures for the organizations that operate with different brands. For example, ''Hotel Group'', which is managing different hotels, can easily manage and assign email signature templates to specific users under specific brands in their organization with ease.
To further this example, only employees working for ''Hotel A'' are assigned ''Hotel A email signature template'' design. In addition, you can segment and assign clickable campaign banners in your email signature to specific groups, departments, locations or individuals within your organization as well. Therefore, when managing campaign banners for the whole ''Hotel Group'' you can easily create one campaign for each of the brands, meaning only specific email signatures would have ''banner A''.
2. Clean & Minimalist Design
Minimalist email signature design is a big trend in 2023 since it offers clean and simple design that is both visually appealing, modern and professional. This communicates important information without overwhelming the reader with too many details. Furthermore, minimalist designs are often more effective since only the most important information is presented in the most effective manner. Additionally, minimalist email signature designs can easily be customised to fit a brand's visual identity, and they can help to reinforce a brand's message and values. As a result, more and more businesses are adopting minimalist email signature designs as a way to make a strong and lasting impression on their customers and clients.
3. Automated banner campaigns
Automated clickable banner campaigns are a great way to promote your brand, introduce new services or products, and inform about activities in your organization, such as events, exhibitions, certificates, accreditations, etc. With automated campaign banners you can easily inform your recipients about any activities in your organization, or simply share your values, new projects or blogs, etc. You can use clickable campaign banners to get the word across, grow your business and drive traffic to your website, which is great for your SEO as well.
4. Boosting engagement with interactive email signature elements
Interactive email signature elements, such as call to action buttons, have become increasingly popular in recent years. For example, ''book a meeting'', ''book now'', ''download a catalogue'', ''track your package'', ''online shop'', etc. By incorporating clickable buttons, links, avatar photos or even social media icons in your email signature template design, you can provide readers with a more engaging experience that encourages them to interact with you. This is great for your branding, as it helps you boost your business and drive traffic to your website and social media channels. This can lead to higher engagement rates, increased brand awareness, and even more conversions. With the right design and messaging, your email signature can become a powerful tool for boosting engagement and driving results for your business.
5. Mobile Responsive Email Signatures
With more businesses communicating via smart phones, businesses want to make sure their email signatures are received on the smart phone in a presentative and professional manner. It is recommended that your email signature template design is responsive. Therefore, not too wide and not too long, so as to optimize the effectiveness. Moreover, don't forget that smart phones support a limited number of family fonts, so make sure the use of fonts is consistent on all devices.
6. Consistent with Brand Identity
Email signatures provide more possibilities for branding. Email signature design must reflect the brand identity with its colours and fonts. Identity design is essential for any effective professional email signatures.
7. Animated GIFs
Animated GIF banner campaigns are very trendy in 2023 and for a good reason. GIFs drive attention to your banner or logo and attract more clicks. It is important to make sure you use automated GIF banners in a presentable and professional manner, highlighting one aspect of the communication on the banner. For example, Hotels are very successful in using professional sleek GIF banners in their email signatures to boost engagement and drive traffic to their booking websites.
8. Leverage social media profiles
Email signatures are much more than your full name, job title, company info and phone numbers. Email signature trends in 2023 pay great attention to leveraging social media platforms, since social media activities nowadays are more important than ever. Make sure your organization is addressing the target audience on all reverent social media platforms. This is the key to strong brand recognition and to long-term business development. This is why social media platforms have become a 'must have' in 2023 email signature design so as to encourage recipients to engage with brands on social media platforms as well.
9. Optimised for Dark Mode
Firstly, you have to be aware that you cannot fully control how dark mode email signature is going to look on different email clients and devices. Nevertheless, we have some great tips on how to eliminate possible inconsistencies. What most email clients do is reverse black and grey text to appear white. The way colours are inverted is unfortunately not the most optimal solution, which a designer would probably choose for you. The same happens with border lines and separation lines in email signature design. Furthermore, transparent logos with dark elements can easily get lost or hidden. Logos in JPG format saved with a white background would appear with the white box around it. This is why we would suggest that you think about dark mode email signature design when unifying email signature designs throughout your organization. Make sure you upload PNG and GIF banner format images. Try to use a version of your logo which has vivid colours and looks good on both white and black backgrounds. If that isn't possible, consider adding a white stroke or white glow around dark letters or elements in your logo and social media icons, to make it visible on a dark mode.
10. Personalisation & customization
Nowadays more and more organisations need personalization and customization of information in their email signatures. There are individuals and departments who would need to have additional fields appearing in their email signature, such as an avatar image, or a WhatsApp icon that is different for each individual. With AdSigner email signature, we easily handle these customizations, making sure every employee has their own personalized element embedded in their email signature. There may be individuals in the organization who communicate in different languages and therefore require job titles in different languages, or personalized greetings in their email signature. This can be effectively applied with AdSigner email signature solution. To sum up, having the ability to easily customize and personalize email signatures in a professional manner is the way forward. This is why an increasing number of companies are looking for these types of features, and the possibility to centrally manage and unify their email signatures. However, at the same time they are looking for software that offers personalization in a professional manner, to appeal to the wider needs of their organization.
Summary
Staying up to date with email signature design trends is crucial for businesses in 2023. These trends provide opportunities to enhance brand identity, improve communication, and boost engagement with customers and clients. AdSigner, a leading provider of email signature solutions, offers customizable templates, segmented banner campaigns, social media integration, interactive elements, and mobile responsiveness to help businesses capitalize on these trends. By adopting minimalist designs, leveraging automation for banner campaigns, incorporating interactive elements, optimizing for mobile devices, maintaining brand consistency, utilizing animated GIFs, leveraging social media profiles, optimizing for dark mode, and embracing personalization and customization, businesses can create professional and engaging email signatures that set them apart from competitors. AdSigner remains committed to innovation, helping businesses maximize the potential of their email signatures and achieve their communication goals in an evolving digital landscape.
Get started now